Click on picture for larger view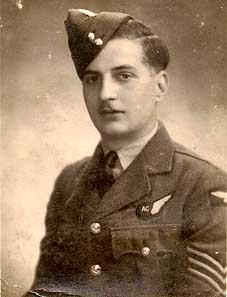 Sergeant Eddie Coe, 1942
Wireless Operator and Air Gunner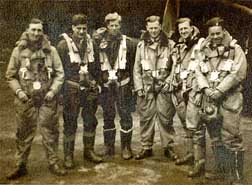 25.6.42 - target Bremen
L>R: Bob Brown (rg), Eddie Coe (w/op)
Alan Wilch (pilot), Bob Parish (nav.)
2nd pilot (Dicky . . .?), Jack Wolff (fg)
21 OTU Moreton-In-Marsh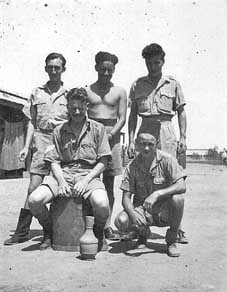 L>R standing: B. Brown, J. Wolff, E. Coe
L.R front: A. Wilch, R. Parish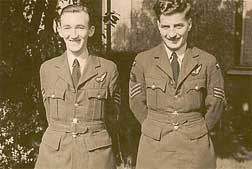 Bob Brown (left), Eddie Coe (right)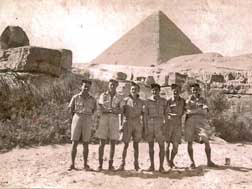 On leave September, 1942
L>R: J. Wolff, A. Wilch, R. Brown, E. Coe
R. Parish, unknown (Dick..?)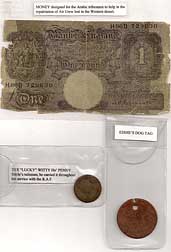 Memorabilia:
Eddie's lucky halfpenny
Eddie had wanted to join the forces at the outbreak of war. All his pals were going for the tank units, but Eddie was halfway through his indentured apprenticeship as a compositor with Mark Taylor & Sons Ltd of Hull and Mr. Taylor did not want to lose him. Conscription age at this period was twenty.
The day after his twentieth birthday, he signed on with the Royal Air Force Voluntary Reserve: R.A.F.V.R date of attestation: 7/10/1940 .
He knew printing was not a reserved occupation and it was only a matter of time before his call up came through the post. By joining the reservists and volunteering for air crew he picked his own place in the war. The government's Interrupted Apprenticehip Scheme was now in place and both Eddie and Mr. Taylor knew the inevitable. Eddie was called up to regular service on 5/12/1940 and reported to I.T.W. 6 Initial Training Wing No. 6, P.G. 66 Squadron, 10 Signals Recruitment Centre, Blackpool for eight weeks basic training, square bashing and generally learning to be a airman.
During the three months initial wireless training at No. 2 Signal School R.A.F. Yatesbury, Wiltshire, from 28/2/1941 to 6/6/1941, Eddie had to reach eighteen words per minute to gain his sparks flash on his uniform, as well as an increase in pay. . Whilst in training at Blackpool he'd asked a fortune-teller if he would survive the war, he was told by her he would reach his eightieth year and he did, some nerve!
At No. 8 A.G.S. Air Gunnery School, R.A.F. Evanton Scotland (12/2/1942 - 20/3/1942), it took Eddie about 4 weeks to reach the standard required and upon completion automatic promotion to sergeant Wop/AG, pay increase 9 bob a day, . Gunnery School is where Eddie met and became a life-long friend of Bob Brown from Newcastle. Bob flew as rear gunner with Eddie on all his operations.
At R.A.F. Moreton-In-Marsh Gloucestershire 21. O.T.U. Operational Training Unit, 24/3/42 - 6/7/42, Eddie undertook air crew training for Wellington bombers, voluntary crew formation and hours of flying exercises which included bombing runs, direction finding, cross country, gunnery practice, night navigation etc.
During 1942 this base had been ferrying approximately twenty new Wellingtons a month to the M.E.F. , [Middle East Front], many with new crews to replace and reinforce the Middle East Command of the R.A.F. in preparation for the coming offensive against Rommel. The new crew joined No. 1446 Ferry Flight (6/7/1942 - 30/7/1942).
21 O.T.U. was required to submit a number of Wellingtons for the 1000 bomber raid over Bremen on 25/6/1942. Eddie with the rest of the rookie crew completed the operation and managed to get back, all a bit dicey, with a bad landing at R.A.F. Horsham, St. Faith, Norfolk, after been badly beaten up over the target.
On the 23/7/1942 Eddie flew out from Moreton, with a new crew and new Wellington to join 70 Squadron in the Western desert. It took five days.
R.A.F. Moreton–In–Marsh to R.A.F. Portreath [Cornwall] to R.A.F. Gibraltar [over night and refuel] to R.A.F. Luqa Malta [over night and refuel] to R.A.F. L.G. 224 Egypt, 28/7/1942.
LXX Squadron
Motto: USQUAM [Everywhere] Middle East Command
205 Group, 231 Wing
The tactical achievements of the night bombers of 205 Group RAF demanded a smaller Bomber Command Force, flexible enough to be switched in emergency to direct army support in attacking enemy tanks, transport and troops close to the front line. The squadrons were very mobile, based in tents, trucks and improvised runways scraped from the desert surface. Airfield equipment was primitive, maintenance of engines and airframes difficult, living conditions always uncomfortable and `gippy tummy' was common. Hot humid days and freezing nights were normal.
Targets in general were smaller and more specifically defined necessitating bombing at low levels, frequently 5,000-7,000 feet, a range well within the capabilities of both light and heavy flak, thus leaving pilots limited room for manoeuvre when caught in concentrations of searchlights and flak, or when attacked by a night fighter. Operational altitudes in excess of 12,000 feet were rare for the Wellingtons of 205 Group.
The positive facts were:
a] weather conditions were settled for long periods,
b] targets in 1942 and 1943 were usually less heavily defended than in Germany and losses on normal missions were lower than for Bomber Command.
Exceptions were the 'mail run' or regular targets frequently attacked, such as Benghazi and Tobruk. In a bomber squadron aircrews were frequently known to be lost or missing and the strains upon the survivors were considerable because they knew they had a definite number of missions to complete. They also knew that one third of the crews were almost certain to be killed or go missing during their first tour of operations. In spite of the odds against their survival to the end of the tour, the young men of these squadrons stood up remarkable well to the strain of air warfare.
70 Squadron had the distinction of seeing the longest period of service in the Middle East and seems to have had all the song-writers. Eddie Coe may well have been one of them. [see sample song sheet]. Eddie acquired a ukulele while serving with the squadron and I was told by Bob Brown, [rear gunner] that he quickly became a George Formby mimic. He had a good ear for music and in the days before T.V. especially if company was present Eddie would entertain. He finally sold it in 1984.
To have a chance of surviving ops every member of the crew had to be efficient and vigilant, and a element of luck was essential. Most aircrew were superstitious. Eddie always carried his lucky old half penny given to him by his uncle,Tom Witty, his mother's only brother, who had carried it through the Great War.
At the end of his operational tour in the M.E.F. the crew was as follows:-
Sgt Wilch, A.K. [Alan] Captain. [Norwich]
Sgt. Jenkins, W.E. [Bill] 2nd Pilot.
Sgt. Parish, R.S. [Bob] Navigator. [Kendal]
Sgt. Coe, E. [Eddie] W/op. [Hull] 1073772
Sgt Wolff J.R. [Jack] Front Gunner - (see page on this site)
Sgt. Brown, R [Bob] Rear Gunner [Newcastle]
Information taken from the Log Book and 70 Squadron's Operations Record book via The National Archives.
Alan made it home for Christmas Day 1942, [see letter to Mrs. Coe, Eddie's mum]. He was flown home which gave his parents the best present ever. The rest of the crew spent Christmas 1942 in Lagos, West Africa, after completing their tour of operations, awaiting to be shipped back to Blighty.
Eddie's official period of overseas service, including leave, amounted to just under eight months, from 25/7/1942 to 282/1943.
Later Service
R.A.F. Sleap, Shropshire, 81 O.T.U. Instructor, 18/3/1943-20/6/1943. (Whitley's MK 1 &MK5), Promotion to Flight Sergeant
R.A.F. Jurby, Isle-Of-Man, A.O.S. (Air Observer School), Instructor, 22/6/1943-20/7/1943
R.A.F. Cark, 1 S.P.T.U. (Special Pilot Training Unit), Instructor, Signals Officer and Assistant Adjutant, promotion to Warrant Officer, 20/711943-5/4/1946 (De-Mob)
While serving at Cark, Eddie met and fell in love with L.A.C.W. Annie Elizabeth Shaw from Northern Ireland. They were married on 29/7/1944 at St. Paul's Apostle And Martyr, Grange-Over-Sands. Their first child, a boy, was born 6/7/1945.
The R.A.F. and Eddie were synonymous; his years of service made him the man I knew. He was fiercely proud of the part he played in the war. On the day he died he recalled to me, in one of his more lucid moments, the events of a bombing raid over Benghazi
Surely these were times and experiences which had lasted him a lifetime and I for one will always be eternally grateful to him and all the other young men who volunteered.
Gary Coe