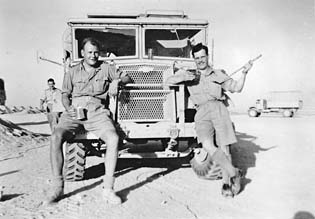 Clive Stanbury (left), Sq. Ldr. Tommy Tucker (right)
1941
click on image for larger view
During a distinguished RAF career, Wing Commander Clive Stanbury served with 70 Squadron in the Western Desert.
In the course of 1942, as Flight Lieutenant and subsequently Squadron Leader Stanbury, he was awarded both the D.F.C and D.S.O:
In his capacity as flight commander, he has displayed outstanding leadership and quick decision in emergency. His energy and will to win during the period of our withdrawal in the Western Desert, inspired all with whom he came into contact. Squadron Leader Stanbury is always first to volunteer for hazardous tasks. On one occasion an aircraft had crash-landed in the desert, too far from here to be salved. The whole undersurface of the fuselage was ripped away, but Sq. Ldr. Stanbury flew it to base for rebuilding.
Citation notice for the D.S.O. (awarded 4.12.42) from The Times
Extracts from the flight logbook of Clive Stanbury
Clive Stanbury in 624 Squadron
Standing: Clive Stanbury (left), Sq. Ldr. Tommy Tucker (right - later killed in action)

Front: Unknown (left), Major Jimmy Catling (right),army intelligence

Sally-Anne Barrett writes:

Jimmy Catling and another were gunners /intelligence. Jimmy was detailed to fly with my father to gather intelligence on the fortified areas etc. I gather he was terrified but he did it. I believe he was sustained by the hip flask of rum and lime juice carried in the cockpit by my father for those who needed it!

The silver hip flask , very battered , is now in the proud possession of my son.

Clive Stanbury, 6th from left, front row