LAC. Wallace Jackson in North Africa and Italy with 70 Squadron, RAF, 1941-1944
Home North Africa 1940-43 Italy and After Concerts and Menus Links Other Personnel/Contacts
Squadron Leader Gordon Stanley Orchard
Contributed by his son, Roland Orchard
My father, Gordon Stanley Orchard, served as a pilot with 70 Squadron between June, 1942 to October, He was an Aussie who had come through EATS, Canada, having done basic training in Australia. He arrived in the UK July 1941 where he was in the RAF Training Pool then onto 11 OTU until going to the Middle East in May 1942. There he flew with 70 Squadron, with the rank of Flying Officer.

After completing his tour of duty with 70 Squadron, he went on flying with all sorts of non operational units in the Middle East then was attached to 458 Squadron RAAF, July 1943 to May 1944, for another operational tour. He ended up converting to B24 Liberators back in Australia and started a 3rd tour, flying 5 operational sorties from Morotai Island just prior to the Japanese surrender in August 1945, finishing his career with the rank of Squadron Leader.
His pilot's log book shows he completed 37 operational missions with 70 Squadron. Two stories I remember him talking about were:
1. The Squadron had been bombed by HE111's and were lucky enough to have shot one down. He souvenired a small part of the aileron fabric, clearly showing the green paint (mainland Europe camouflage) on the upper surface. Dad wrote on it: 'Fabric taken from the aileron of a HE111K shot down by AA, LG 60, June 1942. Western Desert.' Going by his Log Book he flew into LG60 on the 19th June, 1942, flew out the 20th June and flew back in on the 23rd June.
2. While bombing Tobruk one night, Dad told me that the whole crew were looking down at the 'fireworks' as he put it, after they had dropped their bombs. He glanced up only to see a rather large wing of another aircraft directly above him. This one had a big black cross on it, though. He yelled at the front gunner just as the enemy pilot spotted him. They were close enough and lit up enough due to the 'fireworks', for Dad and the German pilot to actually see each other. The Luftwaffe pilot banked sharply away, too late for the front gunner to train his guns.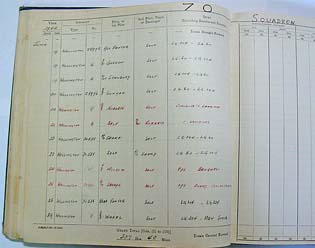 A page from G.S. Orchard's Flight Log - click on thumbnail for larger view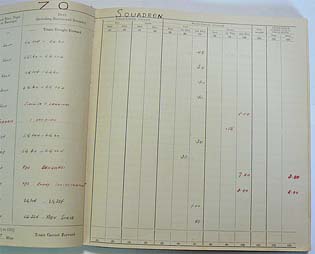 Opposite page to above - click on thumbnail for larger view
Home North Africa 1940-43 Italy and After Concerts and Menus Links Other Personnel/Contacts