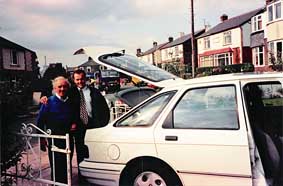 Harry Dann with his son.
Burnley, 1995
click on image for larger view
My father, Harry Dann was born on 26th October 1922 in Burnley and attended the local grammar school. He was a local champion swimmer and diver who gave exhibitions of diving around Lancashire. Post war, he delivered milk, sold insurance and then in the 1970s began mathematics teaching until he retired in 1985.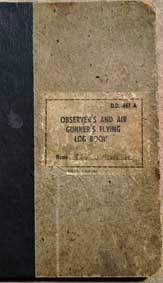 David Dann would be grateful to learn of any photograph showing his father in his RAF days.
Once selected for aircrew after initial training, Harry Dann went through specialised courses before finally qualifying as an air navigator in February 1944, and eventually being posted to 70 Squadron.

He attended courses in South Africa at RAF Air Schools 47 (Queenstown) and 48 (Woodbridge, East London), finally Operational Training Unit (OTU) RAF Qastina in Palestine.
In August 1944, the Normandy campaign was well under way with an Allied defeat of the German forces at the Falaise pocket. On the eastern front, the advance of the Soviet forces continued with Roumania, an ally of Nazi Germany, on the verge of capitulation. 70 Squadron, stationed at Tortorella in Italy, was now in range of other targets.

Harry's posting to 70 Squadron began in earnest after a 30 minute "G Training and Air Test" session, when he took part in an 8 hour 45 minute flight in a raid against Valence, near Lyon in France, where there was an airfield used by Ju88s. His next raid was a 6 hour sortie against the important tank factory at Sankt Valentin, Austria.

The Hermann Göring Factory at Sankt Valentin produced large numbers of Panzer MkIV tanks as well as other more powerful and specialised models such as the King Tiger. Forced labour was used including, from August, prisoners from the Mauthausen Concentration Camp.

In February, 1945, Harry switched from the Wellington to the Liberator bomber. Harry's first big raid in a Liberator was against the marshalling yards and wagon works at Graz, together with 70 other aircraft from the Group. The 19/2/45 daylight raid on the naval armaments base at Pola (recorded as 21/2/45 in 70 Squadron Record of Events) was described by the squadron commander, W/C G.A. Mills as "the outstanding sortie of the month" with "three enormous explosions, the like of which had never been seen before by any of the crews. Flames shot up to 3000 feet . . . ".

Harry's crew reported "bombs dropped in one stick aimed at the artillery depot" and " . . . terrific explosions seen".

Liberator "P" KK360: S/L E.Winterbottom, captain, Sgt W.J. Dakin, engineer, Sgt H.Dann, navigator, F/O H.A. Young, air bomber, F/S J.T. Walker, wireless operator,

Sgt D.L Malling, Sgt P. Holdworth, Sgt J.A. McGinness air gunners

The last page in Harry's flying log records navigation duty in Hudson and Anson aircraft of the MACAF (Mediterranean Allied Coastal Air Force) communications flight.