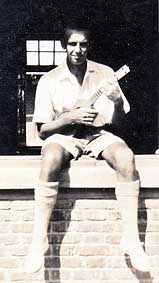 click on images for larger view
My great-grandfather Henry Stanley Hill served in the RAF from the inter-war period right through to 1945. He flew in Wellington bombers over North Africa during the war and my research leads me to believe he was in 70 Squadron. I have attached some photographs he took during his service, some going back to the early thirties at least. Any information concerning him would be most appreciated.

I believe that he is the one playing the ukelele in one of the photos and that he was in 70 Squadron. He came back with an Italian rifle after the war and there is a card in amongst his photos that must have belonged to a friend with the squadron on it. On the back was written 70 (B) Squadron.

From what I gather he was first out in India, then the squadron moved to the Middle East and Egypt before the war. There is one photograph taken in Australia of one of the dockyards so presumably they must have passed through there at some point. There is one of him and some others on a camel in front of the pyramid when they were out in Egypt.

My mother tells me that a model of his aircraft was made, I think, by his son, my grandfather. Apparently the crew painted symbols representing their surnames on the plane. I think there was a Lemon and also a Cook.

I am not 100% certain on his rank, particularly since he was in for a while. I think he was an officer by the end of the war but I might be wrong. He was the radio operator but sometimes doubled up as a gunner.