Dan Weller writes:
Here are two pictures of my grandfather John Campbell Mitchell who was a member of 70 Squadron during the second world war. I would love to know more of his time in Egypt and Italy as he never discussed his service.
My grandfather, John Campbell Mitchell, served as a wireless operator in Wellingtons. I have a photo of him in desert gear by the tail of a plane, and a portrait in his uniform, looking very young though he was near 30!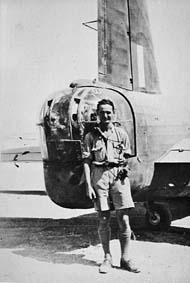 John Campbell Mitchell in North Africa
At the end of the hostilities, he was possibly in charge at a radio control tower in Hamburg.
My mother used to tell me about him singing "We're off to bomb Benghazi" to the tune of Lili Marlene, around the house, so I was thrilled to see those lyrics!