Tom Petrie was born and brought up in Broughty Ferry, Dundee, the elder son of Thomas Parker Petrie Sr. and Marjory Petrie. Their younger son, 1880533 Sergeant W.W.D. "Bill" Petrie, Royal Engineers died on service in 1941. Both sons attended Grove Academy.
Tom volunteered for the RAF at the outbreak of war but his induction was interrupted by an appendicitis operation. After training in early 1941 at the Elementary Flying Training School in Perth, he went to Alberta, Canada and eventually started on Wellingtons in September 1942. Among his Wellington IC instructors was Pilot Officer, later Flying Officer, P. P. "Johnny" Pohe RNZAF, who was captured in a raid over Hannover on 22nd September 1943, participated in the famous Great Escape in March 1944 and was executed by the Gestapo in reprisal.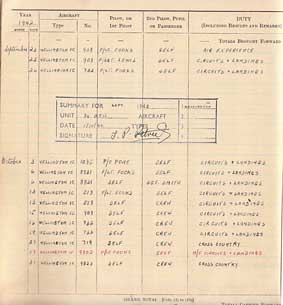 Extracts from pilot's logbook , October,1942
From October 1942 Sergeant Petrie trained with his crew and qualified for Wellington IIIs in February 1943, aged 29. In March he and his crew flew aircraft HZ179 down from Harwell to Portreath and Gibraltar for four days and then on to Castel Benito in Africa to join B Flight, 70 Squadron. This was a five-man crew, so there was no co-pilot, which caused great hilarity at Gibraltar when they arrived as the weather closed in. A USAF flying fortress had just got down before them and the captain greeted Sgt. Petrie on the airfield telling him how good his kite was with its crew of…. was it 9 or 10? They swapped statistics on their aircraft, the American trumping the Scot every time until they got to payload – the Wimpy, with its wood and canvas fuselage could carry more!
After one operation out of Castel Benito, they flew over to Gardabia West and flew three successful operations from there before crash landing DF733. This aircraft was a write-off and was noted in the pilot's log-book with the following endorsement ordered to be inserted by the Air Officer Commanding 205 Group:
"Sgt. Petrie was captain of a Wellington aircraft taking-off on operations on the night of 6th April 1943. One engine cut immediately after take-off, this N.C.O. with great presence of mind, managed to climb to 300 feet, jettison his load of rodded bombs and crash land without hurting his crew".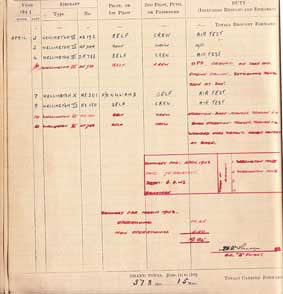 Extracts from pilot's logbook , April,1943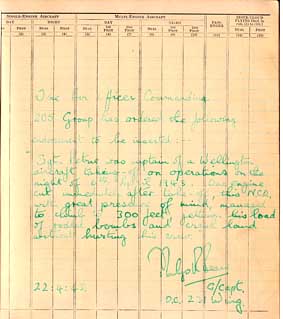 Commanding officer's endorsement in logbook
Then on the evening of 12th April 1943 they took off in Wellington HF753 DU-O for Menzel Temime, an enemy landing ground.
C.G.M. Citation : Sergeant Thomas Petrie
One night in April, 1943, this airman was the pilot and captain of an aircraft detailed to attack an enemy landing ground. In the run up the aircraft was hit by anti-aircraft fire but Sergeant Petrie held course and a stick of bombs was released.
Almost immediately the aircraft was again hit which caused it to dive steeply. Sergeant Petrie was severely wounded, his foot being practically severed, while other members of the crew were slightly wounded. Despite his injuries, Sergeant Petrie skilfully regained control of his aircraft, circled and released the remaining bombs over the target area. Course having been set for home, the injured pilot was removed from his seat and given first aid, while another member of the crew kept the aircraft on its course to base.
When the airfield was reached, Sergeant Petrie who, throughout the return flight, though in considerable pain and faint through loss of blood had remained in command as captain, gave the crew permission to leave by parachute. They elected to remain, however, confident in his ability to effect a landing. By strapping him in the pilot's seat and tying his uninjured foot to the rudder bar, Sergeant Petrie was able to take over the controls. When approaching land, at a height of 300 feet, the petrol supply ran out but a successful crash-landing was made. This gallant airman displayed great courage and fortitude in keeping with the highest traditions of the Royal Air Force.
(London Gazette – 4 June 1943)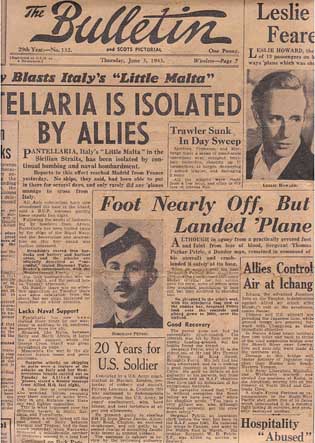 The Bulletin and Scots Pictorial, 3.6.43
This operation resulted in the pilot and navigator, Sergeant McGarry, both receiving the Conspicuous Gallantry Medal (Flying). Sadly the navigator and the rest of the crew were lost some months later in operations, whilst Sergeant Petrie was still recovering in hospital in Cairo.
Sergeant Petrie eventually returned to hospital in England and then Scotland, where he was able to resume his career in marine insurance. He later married, had three children and died in 1974.