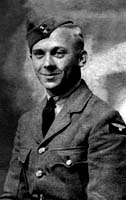 Click on picture for larger view
Steve Rutter posted an enquiry on the contacts page concerning his uncle, Sgt Percy Robert Rutter, 1325173, who died died

age

d 27

on 20 March 1943

while

serving with 70 Squadron, being commemorated at the Alamein Memorial: http://www.cwgc.org:80/search/certificate.aspx?casualty=1282437

We now have an image of Percy Rutter, thanks to Barbara Clarke, whose mother was Percy's niece.

Percy was born at Custom House, Essex, in 1916. He served as a rear gunner.

Barbara writes that he was a lover of jazz, especially Louis Armstrong, and played baseball at least once a week.