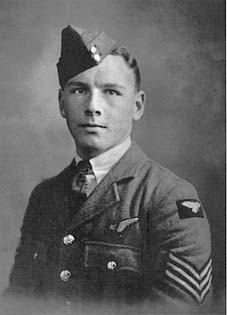 Click on picture for larger view
Sgt Ron Haywood, the great uncle of Louise Haywood, served with 70 Squadron in the Middle East. His name appears engraved on a bar tray in the possession of Linda Burton, daughter of William Slack, who has sent the following:
My late father was William Slack known as Slacky, and he served in the 70th squadron of the R.A.F. in the second world war. I have an album with loads of photographs from Palestine and Egypt which he sent to my Grandmother for safe keeping. It is one of my most treasured possessions. I also have a metallic plate which I understand was originally a bar tray. I was told it was obtained at Suez. It was signed by several of his comrades and then the signatures engraved:
Fruity, William Ian Ansty DFC, Sgt Ronald Haywood, Suet Board Sam, F/Sgt HB Jones, FT ? Lewis, Sgt Fieldhouse, Sgt EV Shaw, Francis D Norton; also C for Charlie T 2842
Subsequently, Warrant Officer Haywood served with 7 Squadron where he was awarded the medal for conspicuous gallantry in action. He was killed during a raid on Braunschweig on the night of 14/15th January, 1944.