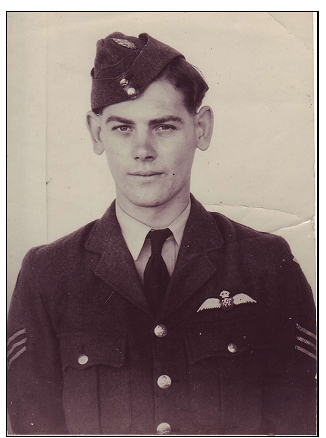 Sgt Ernest (Eric) Ross, in 1944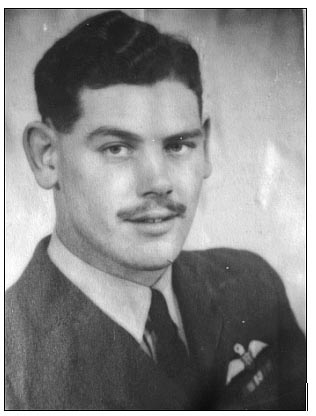 Flying Officer Eric Ross in 1945
Ernest Gladstone Ross (known as Eric), was born on 7th August 1924, at Paisley, Scotland, to Ernest George and Mary (nee Gladstone) Ross. He had one brother John, who was born two years later.
Dad was educated at William B Barbour Academy, which he attended from 1937 – 1941. The school was also known as Paisley Grammar School. After leaving school, he was employed as an Assistant Works Manager at Seedhill Finishing Company in Paisley. The company were concerned with the refinement of Vyella cloth for the textile industry.

Eric joined the Royal Air Force on 9th February 1942, at the age of 17. He was recommended for pilot training by The Aircrew Selection Board. In March 1943, he arrived in Southern Rhodesia, Africa (now Zimbabwe), for pilot training. He was initially based at Bulawayo, probably for acclimatisation and ground training. In September 1943, he was posted to No 27 Elementary Flying School at Induna. This school flew Tiger Moths. He probably flew 20 – 30 hours during the two months he was based there.

In November 1943, he was posted to No 21 Secondary Flying School at Kumalo. The school operated the single engine Harvard and the twin engine Oxford. He was awarded his wings in May 1944 (aged 19 years), and thereafter he was streamed into flying Oxfords, it being decided he was destined to be a bomber pilot. In the five months at Secondary Flying Training School he would have flown about 100 hours.
Eric Ross was posted to the Middle East as part of The Mediterranean Allied Air Force (MAAF), following qualification to fly bombers. He was posted to 70 Squadron, 205 Group, in November 1944.

He joined the squadron at the tender age of 20 to fly operations in Wellington Mark Xs from Tortorella, Foggia, Southern Italy from November 1944 – January 1945. During this time he was engaged in a total of 15 missions, ranging from attacks on German motor transport crossing roads and bridges, and supply drops to partisans in former Yugoslavia. He also took part in the airlift of troops to Athens, to quell civil unrest in Greece after liberation.

Here is an example of a typical attack on troops and motor transport from the German Army on 18th December 1944:
Wellington X 'T' LP115 – 12 aircraft from squadron attacked a concentration of troops and motor transport from 21st Army Group (German Army) in the area of Bioce/Matesevo – Villac.

'Found vehicles and created havoc with many direct hits. 'T' LP115 took off at 12:49 and returned at 16:20 hours. Spotted target in good weather conditions and dropped their bombs from 10.000 feet. Reported direct hit on road with many fires. Squadron dropped 25.625 tons of bombs with 102 packets of nickels (pamphlets in German – inviting troops to surrender). The squadron log recorded 'best day so far hammering 21st Army Group'.

Crew: E.G. Ross Captain; Sgt Curtis (Navigator); Sgt Laidley (Bomb Aimer); Sgt Taylor (Wireless Operator); Sgt J.J. Lister (Rear Gunner).
He also flew during this time with Pilot Officer D.A. Clarke, Flight Sergeant W.C.T Worf, Sgt T.G. Turner, Sgt W.A. Elvidge, Sgt A. Ross, Sgt G.A. Hind and Sgt T.G. Turner.

Thereafter Eric joined 178 Squadron in Amendola to continue Operations, flying the American built Mark V1 Consolidated Liberator B24 until the end of the war.


From Wing Commander R.R Bankers' Summary of Events, November 1944:
"In the latter part of the month the new Sgts' mess, which had been excellently converted from an old farm house by volunteers from the aircrew senior NCOs, had its opening night.
It was indeed unfortunate that Sgt Astley who had devoted all his spare time and 7 days leave to the construction of a fine hand-cut stone bar and a brick fireplace, was reported "missing" two nights before this (Nov 21).
Squadron football takes place regularly, and the rapidly forming Rugby team showed considerable promise."
Sgt Astley (air bomber) is buried in the Belgrade War Cemetery, as is the captain of Wellington X "W" LP179, Sgt I. Parry.
Details are not known of the fate of Sgt W. Woodall, navigator, A. Thistlethwaite, wireless operator or Sgt F.H. Lacey, rear gunner.
On 19.11 44, during a raid on motor transport on the road from Sjenica to Priboj, two Wellingtons were seen on fire, one in the air near Prijopolje and one on the ground, 30/40 miles west of Sjenica. "Moderate light and heavy flak were encountered from towns, villages and vehicles".
The other Wellington lost was "C" LP641 whose crew later returned to the squadron successfully.
Crew: Sgt A.W. McDonald, captain; Sgt C.C. Haydon, navigator; Sgt S. Hendry, air bomber; Sgt A. Hawthorn, wireless operator; Sgt L.H.R. Pol, rear gunner