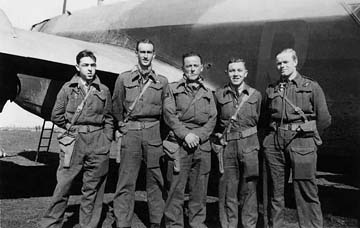 Taken at Benina (Benghazi) 7 Feb1943. Aircraft is Wellington III HF750. They had just flown it from Portreath and Gibraltar.
L-R: Cliff King (Nav); Bob Stowers (Capt); Jimmy Bannister (WO); Ted Creed (Bomb Aimer); Snowy Thorn (Tail gunner).
Snowy Thorn signed the menu at RAF Ballah Sgts' Mess Christmas dinner, 1943, along with other ex-members of 70 Squadron.
NZ415793 Flying Officer Robert Ernest Stowers DFM, Royal New Zealand Air Force
Group of medals (8): Distinguished Flying Medal; 1939-45 Star; Africa Star; Italy Star; War Medal; Defence Medal; New Zealand Service Medal; Bomber Command Medal.
Commenced duty with the RNZAF at Levin 19 October 1941. Posted Harewood 30 November 1941 and Wigram 11 January 1942. Embarked for United Kingdom 24 May 1942. Posted to No. 3 PRC 29 June 1942; No. 12 (P) AFU 21 July 1942; No. 11 OTU 15 September 1942 and No. 21 OTU 21 September 1942. Promoted to Sergeant 24 April 1942.
Flew a Wellington to North Africa via Gibraltar and joined the Middle East Pool 3 February 1943; joined 70 Squadron 7 February 1943. Promoted to Flight Sergeant 1 May 1943. Awarded the Distinguished Flying Medal for bravery,1943.
Distinguished Flying Medal citation:
During the Tunisian campaign Flight Sergeant Stowers has completed a number of successful attacks on heavily defended enemy landing grounds, and on troops and transport concentrated in the battle area. During these attacks he has showed great determination in seeking out his target, often in adverse weather conditions. Throughout the Sicilian campaign in sorties against ports and railway targets in Italy and Sicily, he also showed coolness and a courage of a high order.
42 operations with 70 Squadron (taken from log book):
20 February 1943 As 2nd Pilot (Shafto as Pilot) Palermo. Crashed at base.
Crash
Crash landed in the desert at night, just short of base, after running out of fuel on first operation. Bob was 2nd pilot. All the crew survived.
22 February As 2nd Pilot (Shafto as Pilot). Palermo Harbour.
23 February As 2nd Pilot (Shafto as Pilot). Gabes.
25 February As 2nd Pilot (Brown as Pilot). Gabes Town, Tunisia.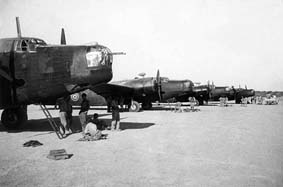 Squadron line-up
1 March As Pilot for rest of operations. Palermo Harbour. Bombed target. Landed at Malta.
2 March ­ Returned to base.
3 March Battle area. Intercom unserviceable.
8 March Palermo Harbour.
11 March Palermo Harbour.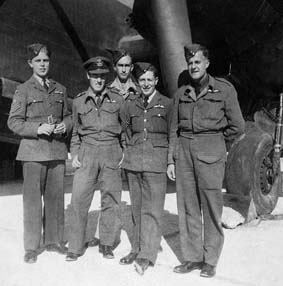 R. Stowers with comrades
20 March Mareth area.
21 March Mareth ­ Gabes area. Motor transport and troop concentrations.
22 March Mareth ­ Gabes area. Motor transport and troop concentrations. Landed at Castel Benito (Tripoli).
22 March Mareth ­ Gabes area. Motor transport and troop concentrations. Took off from Castel Benito and landed at base (Gadarbia West).
26 March Gabes Town. Target not located. Bombs jettisoned at sea.
30 March Sfax South, Tunisia. Fires started. Squadron credited with over 60 fires.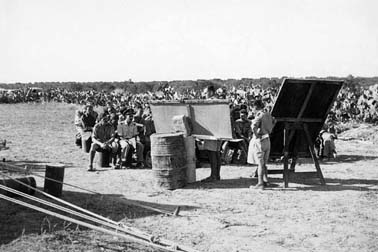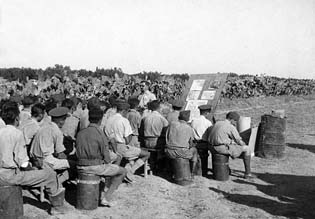 Squadron briefing
6 April Motor transport and troop concentrations along Cekhira ­ Mahares Road. Bombed train in yards at Mahares.
11 April Saint Marie Duzit (West). South of Tunis.
13 April Korba South. Aircraft seen to explode over target.
19 April Solimand South, east of Tunis.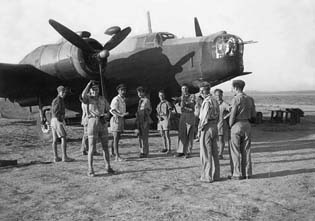 Friends
3 May Retreating enemy motor transport, armour and troops on road N.E. of Medjez-El-Bab to Tunis. Commencement of big push by 1st Army.
6 May Armour, troop and motor transport concentrations on roads south of Tunis and Dejeiba and Cyprien ­ Tunis roads. Searched but failed to identify target and returned with bomb load owing to knowledge of our troops position in push.
9 May Retreating enemy. Cape Bon area. Bombed area 10 miles Radvis Korba. Bridge over Waadi and roads ­ main target obscured ­ 10/10 cloud. Last operation in Tunisian campaign by 70 Squadron.
23 May Train ferry and railway marshalling yards, Messina, Sicily.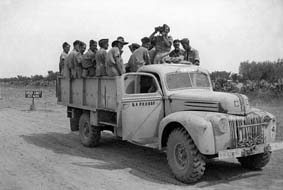 Crew transport
3 June Patelleria Island. Harbour and town. Opposition slight.
16 June Railway marshalling yards at Naples, Italy.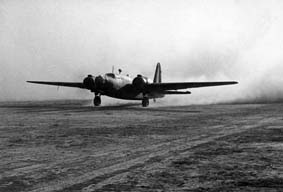 4 July Illuminating. Catania, Sicily. Visibility very poor. Flares late and north-east of target.
7 July Comiso landing ground, Sicily.
14 July Capodichino landing ground, Naples, Italy. Started 2 fires. Saw Ju 88.
21 July Marshalling yards and station, Salerno, Italy.
Concert
1 August Marshalling yards, Naples, Italy.
5 August Beaches between Messina and Cape Peloro, Sicily.
8 August Beaches between Messina and Cape Peloro, Sicily. Hang ups. Jettisoned containers. Holed by flak.
13 August Lamezia marshalling yards, Italy. Many fires started. Smoke later obscured target.
16 August Viterbo Aerodrome, north of Rome. Bombed railway at Tarquinia, north-west of Rome. Direct hits on railway line.
20 August Villa Laterno marshalling yards 15 miles north-east of Naples. Port engine un-serviceable. Bombs jettisoned. Returned to base. Parts of piston ring and other bits of metal found in sump. Engine change.22 August Salerno, Italy, marshalling yards. Carrying flares. Target illuminated. 4 hang ups.
26 August Bagnoli marshalling yards, Naples.
30 August Civita Vecchia marshalling yards north-west of Rome, Italy. Return routing over Rome to discover whether or not open city.
Cricket and socialising
4 September Grazzanise sattelite No. 1. 20 miles north-west Naples.
7 September Viterbo Aerodrome, north of Rome. Target bombed.
11 September Frosinone Aerodrome, south of Rome.
14 September Roads ­ Battipaglia ­ Eboli, Italy.
16 September Cisterna Littoria Aerodrome, Italy. 1x4000 pounder.
After finishing a tour of 42 sorties in September 1943 followed by leave in Cairo, Bob transferred to 77 OTU, Qastina, Palestine, on 16 December 1943 to take up duties as flying instructor and test pilot.
Promoted to Pilot Officer 29 September 1943.
On 26 April 1944 he flew by Wellington and then by DC3 via Sudan to Flight Instructors School No. 33, Norton, South Rhodesia, to complete an instructor's course.
On completion of the course, he flew by Sunderland flying boat Coorong from Durban on 24 June 1944, north to Cairo. Stops were made at Lorenzo Marks, Beira, Limbo, Lindy, Darei Salaam, Mombassa, Kissuma, Port Bell, Liarobi, Malakal, Khartoum, Waddi Halfa, Luxor and Cairo. Bob returned to Qastina to continue duties as instructor and test pilot until end of war.
On one flight he crashed landed at base after the undercarriage failed to lock down on one side.
Promoted to Flying Officer 29 March 1944.
Last flight on 30 April 1945. Total flying hours: 1323.15 of which 1008.20 were as pilot.
Received the DFM from Freyberg at an investiture in Hamilton, 31 May 1948.
Died at Cambridge, New Zealand, 28 Sept 2007.