70 Squadron Songs
These songs were found among the collection on stencilled sheets. Perhaps someone may remember the people behind the names and what happened to them.
G. Rintoul Wilson, the organiser of much squadron entertainment and author of at least one of these songs was the storeman and may be seen in the centre of the photograph of ground crew on the FO. Stowers photograph page. He is wearing a beret.
1. Sung to the tune of "Lily Marlene" original sheet
There's a certain Squadron
Way out in the Blue,
Don't need anybody
Tell them what to do
Off to Benghazi every night
And when they don't
They all get tight.
The Boys who bomb Benghazi,
The Boys who bomb B.G.
Wing Commander Simpson
Leads us on our way,
Leads us when we're working,
Leads us when we play,
Give him a ladle when he's tight
And four 500s the next night,
He's off to bomb Benghazi,
He's off to bomb B.G.
Squadron Leader Thomas
Second in Command
Cannot see the target
Too much - - ! sand
Drops his bombs out in the Blue,
Then tells old Tennant
"So would you"
If you had seen Benghazi,
If you had seen B.G.
F/Lt. Stanbury
Sitting at the stick,
Hear his dear old heart go
Tick – a – Tick - a-Tick,
Flak all around the kite up here,
But Stan don't fear
How - - ! near,
He's over old Benghazi
He's over old B.G.
Where is M for Mother?
Where is Tommy Farr?
I bet you'll find him drinking
Pinkers in the Bar,
His kite's in dispersal – it's U/S,
Now need you guess
He's in the Mess,
He's dodging old Benghazi,
He's dodging old B.G.
Where is Q for Queenie?
Panter should be here,
He's somewhere o'er Benina,
Old Blacky sheds a tear.
There is the Mole it's shining bright
But Panter's tight,
No bombs tonight,
Will fall on old Benghazi,
Will fall on old B.G.
P/O. Smith is opping
X is on its way,
Presents for old Jerry
Safely stowed away,
They don't like it, we know that,
But Smithy says it's "tit for tat"
When over old Benghazi,
When over old B.G.
Hear old Junior moaning
Holy Cow Old Boy,
Don't go o'er the target Boss,
Let's just be decoy.
Over the target I'm demoralized
I'm hypnotized,
I'm ostresized. (sic)
When over old Benghazi,
When over old B.G.
See old Sharpy sitting
Drinking "Annie Finns"
Crawling to his tent now,
Falling o'er the bins,
Must get up early, air test to do,
I'm feeling blue,
I'm nearly through,
I seldom reach Benghazi,
I very rarely do.
Wilson and Brodie
Dishing out the booze,
Pinching all the rations
From the flying crews.
Serving very nicely – when we're here
But when we fly –
They drink our beer,
When we go to Benghazi,
When we go to B.G.
Extra verses from the collection of W/C Stanbury;
Copy presented to Major Catling: "Stick around Major, you're O.K." P/O Sharpe in the Mess
Where is Doctor Garraway?
Someone has been stung
Come now drop your slacks dear
Let me see your bum
A slight injection will do the trick
But if it spreads
You'll lose your - - - nerve
You shouldn't go to the Berkers
You know it makes you sick
Richer and Catling
Gunners here pro tem
Sent out from the army
Just to gather gen
Changed their minds 'bout glamour boys
When they first heard
The bloody noise
Over old Benghazi
Over old B.G.
Sooner or later
B.G. will be ours
Then we will be happy
Get some sleeping hours
Its and Jerry on their way
We've won the day
We've come to stay
To stay in old Benghazi
To stay in old B.G.
Notes from the papers of Sgt Eddie Coe and recollection of his son
a) "The Blue" means Desert.
b) Wing Commander Simpson's `party piece` late at night was to take a large ladle, fill it with scotch, and down it in one gulp! (he later became Air Commodore and AOC 205 Group).
c) "500 lb" General Purpose bomb.
---
2. To the tune of "Drink to me only etc." words by G. Rintoul Wilson
Lift up your glasses drink a toast to 70 Squadron now,
For they are flying pioneers and trusty lads I trow,
They braved the sand, the sun, the sea,
They bombed Tobruk to Tripoli
So other Squadrons, raise your glass and honour 'Seventy'.
When other countries tried to take the honour of our land,
We, in a country far away, have proved a trusty band,
In Vic's so old, when bombs were gold
We fought against the Hun,
Come, raise your glasses, drink a toast to what old 'Seventy's' done.
Webby, Read and Simpson too
Their share have surely done,
Wood(?) and Beare and Newman came – and made the Jerry run, ('Wood' - unclear on original)
They all have played a noble part in making '70's' name,
Come then, your glasses raise again – They have not worked in vain.
Charge your glasses once again, we toast the Maintenance Flights,
Fly we cannot without aid from those who service kites,
Our lives we place within their hands
Our trust they will not fail
Raise your glasses, drink their health – "The Ground Staff " will prevail.
Absent friends we won't forget, the Heroes '70' knew,
Men who gave their very all – they perished in the 'blue',
For 'Seventy's' fame they did retain,
And we shall not forget,
Raise your glasses with respect – to "70's heroes yet".
So when the day of Victory dawns, and Jerry is no more,
Back to the peaceful life we'll go and bombing shall be o'er,
And when men meet, their kin to greet,
Each toast may noble be,
But you can give a noble cheer - "The Gallant Seventy".
3. To the tune of "Over the Rainbow"
fragment from the papers of Sgt Eddie Coe
Somewhere over Benghazi, way down low,
There's a Wimp on one engine
Chased by a one oh,
Somewhere over Benghazi,
Heinkels fly,
. . . . . . . . .
Why then, oh, why must I?
4.To the tune of `Clementine`
from the papers of Sgt Eddie Coe
Down to Flights each ruddy morning, sitting waiting for a clue,
Same old notice on the flight board, maximum effort - guess where to?
Refrain:
Seventy Squadron, Seventy Squadron, though we say it with a sigh,
We must do this bloody mail run every night until we die.
Refrain:
Get your guns cleaned, do your dailies, round it off with air tests, *
Rumour has we're going Northwards, but we know we're going West!
Refrain:
Take-off from the Western Desert, sixty, Fuka or nine, **
Same old aircraft, some old aircrew, same old target, same old time.
Refrain:
Navigator! have you lost us? Come up here and have a look,
Someone's shot our starboard wing off! We're all right chaps, that's Tobruk! ***
Refrain:
Oh to be in Piccadilly, selling matches by the score, ****
Then we would not have to do that bloody mail run any more.
Refrain:

Gary Coe writes:
* Pre-flights & daily inspections
** Landing grounds - i.e. LG60, LG09, Fuka.
***I've been told by aircrew that you always got fired on over Tobruk no matter whose hands it was in, (friendly or foe). It made no difference.
****The handicapped & blinded men from the Great War would often sell matches on the street corners, (they did in Hull), a small tray hung from their neck. Everybody smoked in those days. Also no welfare support, for some the only way to scratch a living.
I've heard Eddie sing this on many occasions backed up by Bob Brown (rear gunner). These two communicated every week right up until the end.
---
The following reproduced by courtesy of the Wellington Aviation Museum, Moreton-in-Marsh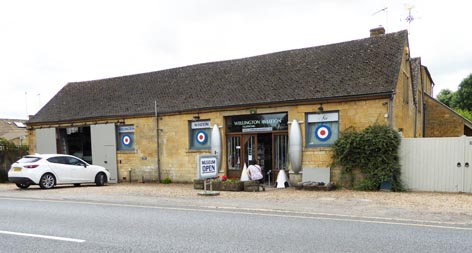 A pretty little bomber parody sung by 70 Squadron from 1941 in the Middle East.

There's an old-fashioned Wimpey
With old-fashioned wings,
With a fuselage tattered and torn.
She's got old-fashioned engines
All tied up with string
It's a wonder she was ever air-borne.
Still, she's quite safe and sound
'Cos she won't leave the ground,
And there's something that makes her divine:
For those up above were all taught how to love
That old-fashioned Wimpey of mine.
Also on display in this superb little museum is the following poem, dedicated to ground crew:
Three Cheers For The Man On The Ground

E.Sykes 1942

Wherever you walk, you will hear people talk,
Of the men who go up in the air.
Of the dare-devil way, they go into the fray;
Facing death without turning a hair.

They'll raise a big cheer and buy lots of beer,
For a pilot who's home on leave;
But they don't give a jigger,
For a flight mech or rigger
With nothing but 'props' on his sleeve.

Thet just say 'nice day' and then turn away,
With never a mention of praise.
And the poor bloody erk who does all the work;
Just orders his own beer,
And pays!

They've never been told, of the hours in the cold
That he spends sealing Germany's fate.
How he works on a kite, till all hours of the night;
And then turns up next morning at eight.

He gets no rake-off for working 'till take-off';
Or helping the aircrew prepare;
But whenever there's trouble, it's 'quick at the double';
The man on the ground must be there.

Each flyng crew could tell it to you;
They know what this man's really worth.
They know he's a part of the RAF's heart,
Even though he stays close to the earth.

He doesn't want glory, but please tell his story;
Spread a little of his fame around.
He's one of a few, so give him his due;
Three cheers for the man on the ground.